Hannah Wyllie
Class of 2022
Currently Studying: BBA in Business Analytics with a minor in Statistics
Member of: Pace Perk Café, Student Leadership Program, Pforzheimer Honors College, Pace Field Hockey team.
From the UK to a Pleasantville campus, to the Pace Perk kitchen, to field hockey games, to the research lab, Business Analytics major Hannah Wyllie is making the most of her time at Pace University. An international student who has traveled to 22 different countries, Hannah chose Lubin to provide her with a launching pad for her career.
Why did you choose Pace University and the Lubin School of Business?
I was initially introduced to Pace by the Field Hockey Coach, Kayte Kinsley, because I was interested in playing field hockey at a university in the United States. I started conducting research and became very interested in Pace because of various opportunities at Lubin, such as the data analytics boot camp and the professional experience requirements. I knew this would help me develop my resume and increase my employability potential for the future.
"This experience has helped me advance my career exponentially. I now have evidence of all the skills I have developed at Pace and something tangible that I can show to future employers during interviews."
You work at Pace Perk, one of our student-run businesses on campus. Tell us about that professional experience.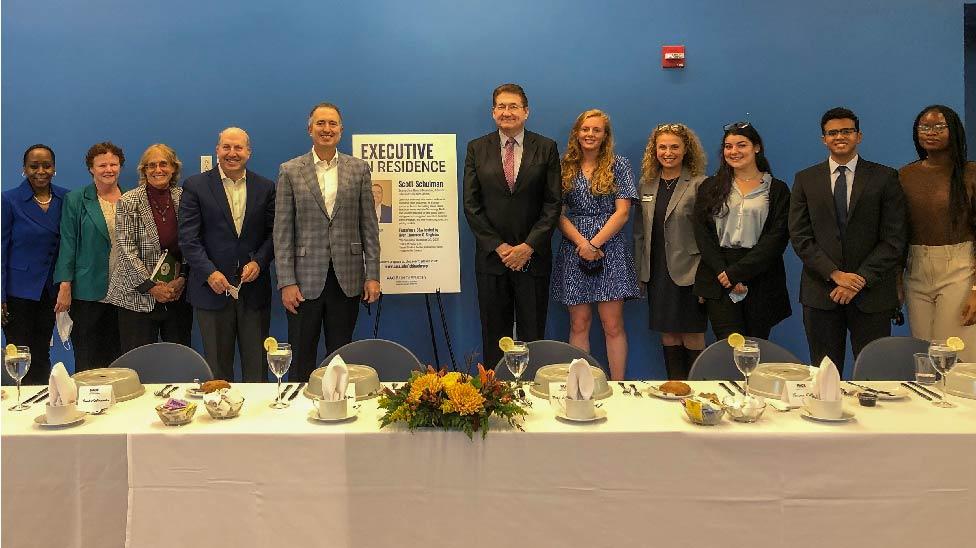 I originally started working at Pace Perk in the Fall of 2019 as a Shift Associate. Since then, I have been promoted into several roles, including Shift Manager, Assistant Operations Manager, and now Chief Operating Officer. This development opportunity has helped me understand that hard work and going that extra mile doesn't go unnoticed. It's been great to see the ups and downs of running a business: from dealing with broken equipment and complaints to completely shifting our business plan to adapt to the COVID-19 pandemic. Overall, working for a student-run business has helped me develop different relationships and has enhanced my resume. Employers are very interested in the student-run aspect of it. Pace Perk has also allowed me to attend impactful networking events such as the Executive in Residence Program and I have also been able to present at board meetings.
Being a student-athlete is very demanding; what have you learned from being on a team?
Image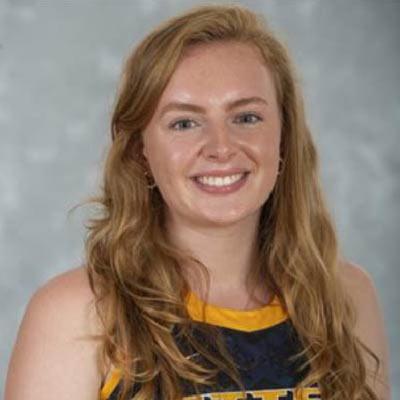 Being a student-athlete is very time-consuming, but I love having lots of different things to focus on and getting a break from schoolwork. I have always loved playing team sports, so over the years I have learned how to communicate with lots of different personalities and be supportive of everyone. Being a part of the Field Hockey team has taught me to be patient because there will always be ups and downs in our performance. I've learned to think "longer-term" and bounce back instead of getting frustrated with myself and the team. Managing my time can be a challenge, but I write down everything I need to do and plan accordingly to prioritize my time.
How has your research experience helped you advance your career?
Participating in the Provost's Undergraduate Research Program over the summer helped me understand that conducting research is never a simple task. There will always be dead ends and drawbacks. As a Business Analytics major, conducting research is essential, so it was helpful to find strategies and methods to navigate challenges. Being in the program improve my technical skills. We used programming tools such as R, and I got some experience writing a technical paper. This experience has helped me advance my career exponentially. I now have evidence of all the skills I have developed at Pace and something tangible that I can show to future employers during interviews.
Do you have any advice for incoming international students?
It's always difficult to leave home and adapt to a brand-new way of life and a completely different culture, but it's important to embrace this change and make the most of your experience here. So give yourself time to adapt and be as outgoing as possible during this process!
What does #LubinLife mean to you?
Being a part of Lubin has made me feel as though I am at my home away from home; it has given me a great sense of community. My professors have been so supportive and caring; they genuinely want to see me succeed. I have also met some inspiring classmates and colleagues who are very passionate and proactive about their futures.
https://www.pace.edu/news/analyzing-research-business-plans-and-field-plays