There are calls for a mass walkout of women across the U.S. if the landmark Roe v. Wade ruling is officially overturned.
Andrew Wortman shared a post to his Twitter account, @AmoneyResists, in which he called for the nationwide strike, which can be seen here.
He wrote: "The moment Roe falls, every woman and girl in this country who values being able to make decisions about her own body should stop working in the largest coordinated protest in U.S. history that brings the entire nation and economy to a standstill. They'd reimplement it in a week."
He followed it up with another Tweet, clarifying: "And yes, all men who support women's fundamental rights should join them in solidarity."
Since being posted on Monday it has racked up more than 5,000 likes, and it was then reposted to Reddit's popular Antiwork forum.
The repost by No-Transition-6630, was captioned: "Help make this happen, I'd help organize, we definitely need it." Since being shared it amassed more than 50,000 upvotes on that site.
Unsurprisingly, it has sparked a fierce debate with people airing their opinions on the idea, and the ruling in general.
Marty commented: "The sad truth is most women don't have the absolute luxury of walking out of their jobs, even for an hour. They'd be fired on the spot & that's the best possibility. I would bet many would be beaten by their partners or their bosses. Women have kids to feed. They can't do this."
SayMaySmith wrote: "The way some of these state laws are written this won't just affect those who are pregnant and/or considering abortion. Where I live it could affect a woman's ability to simply cross the state line!"
HREmpress asked: "You volunteering to pay their rent? Car payments? Child care? No? Thanks anyway for the idea about what we should do to get back our rights."
Justice4All raved: "Absolutely agree. Women have the power to bring the most dramatic change to this long-standing white patriarchy. A work stoppage will change—immediately—lots of hearts and minds."
Bryon D Bothun pointed out: "You do realize that getting women out of the workforce is exactly the purpose of this decision?"
"How could businesses survive w/o women working in them? if the majority did stay away it really would bring the country to a stop," @LilySuJa said.
Messaging for Democracy thought: "A nationwide strike by women to oppose overturning Roe is a great idea. It would have much more impact than yet another march."
Christine Adams added: "The moment Roe falls women should walk out into the streets. Walk off their jobs, out of their homes, out of schools. Even if the stoppage is just 30 minutes it is important to mark that moment and send our message. Next organize! Also—put a CLOSED sign on your bedroom door."
The debate surrounding abortion is at the forefront of the political agenda, after a leaked initial draft majority decision from the Supreme Court indicated the landmark Roe v. Wade decision would be overturned.
The unprecedented leak of the ruling, published by Politico, and later confirmed by Chief Justice Roberts as "authentic," isn't yet final as the ruling is yet to be officially published, and it could still change. The final decision is not expected until later this year.
As it stands, the document, penned by conservative Justice Samuel Alito, suggests the 1973 ruling would be ripped up, along with a subsequent case, Planned Parenthood v. Casey.
"Roe was egregiously wrong from the start," Alito says in the 98-page document, adding: "We hold that Roe and Casey must be overruled.
"It is time to heed the Constitution and return the issue of abortion to the people's elected representatives."
Should Roe be overturned, abortion would become illegal in 13 states via trigger laws, including Texas and Tennessee, while there's speculation more states could follow suit.
Alito also wrote: "The inescapable conclusion is that a right to abortion is not deeply rooted in the Nation's history and traditions."
The graph below, provided by Statista, shows which states would end abortion if Roe v. Wade is overturned.
The Constitution makes no specific reference to abortion, but Roe vs Wade recognized the right to personal privacy, contained within the 14th amendment, as protecting a woman's autonomy to terminate a pregnancy.
Other such rights granted under its umbrella, including contraception and same-sex marriage, are now observed as next on the chopping block, opponents have claimed.
A document from the Biden Administration's brief supporting respondents challenging Mississippi's attempt to ban most abortions after 15 weeks, the case known as Dobbs v. Jackson Women's Health Organization which the leaked ruling centers on, highlighted these fears.
The document, published in September, said the decision to overturn the 1973 case would "not merely overturn Roe and Casey, but would also threaten the Court's precedents holding that the Due Process Clause protects other rights, including the rights to same-sex intimacy and marriage, to "interracial marriage," and to use contraception.
"None of those practices is explicitly mentioned in the Constitution, and most of them were widely prohibited when the Fourteenth Amendment was adopted."
Newsweek reached out to Wortman for comment.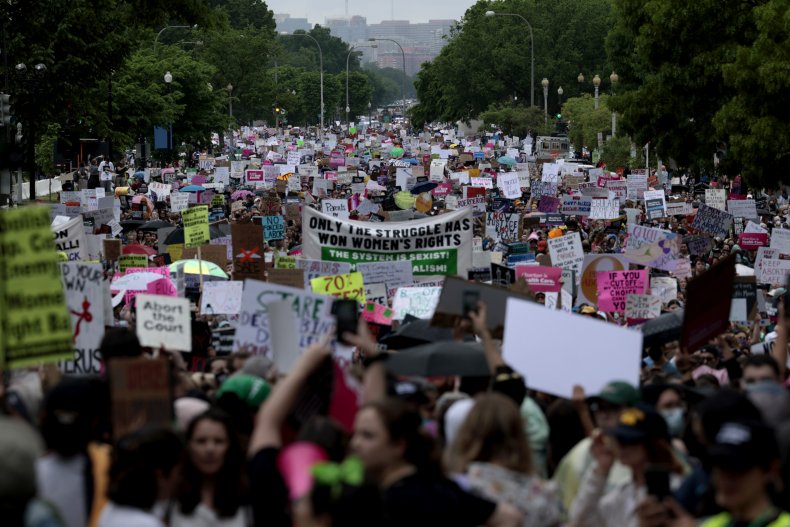 https://www.newsweek.com/calls-mass-walk-out-women-roe-wade-repealed-abortion-1710855