Since 1911,
Child and Family Charities
(CFC) has been protecting and strengthening families in need. Their primary mission is to support children, families, and individuals in a changing community. One way they do this is by teaching families about the foundations for healthy living by using a variety of Supplemental Nutrition Assistance Program Education (SNAP-Ed) programs designed to educate and inspire.  
This work is made possible through SNAP-Ed grant funding from
Michigan Fitness Foundation
(MFF). MFF is a State Implementing Agency of the Michigan Department of Health and Human Services for the education component of SNAP. SNAP-Ed is an education program of the U.S. Department of Agriculture that teaches people eligible for SNAP how to live healthier lives. MFF offers competitive grants to conduct SNAP-Ed programming throughout the state of Michigan.  
CFC embeds SNAP-Ed curriculums within several of their services. For example, at their Family Growth Center (FGC) they use the garden-themed Grow It, Try It, Like It! SNAP-Ed nutrition education program to introduce preschool children to fruits and vegetables using hands-on activities, planting activities, and fun parent/child activities.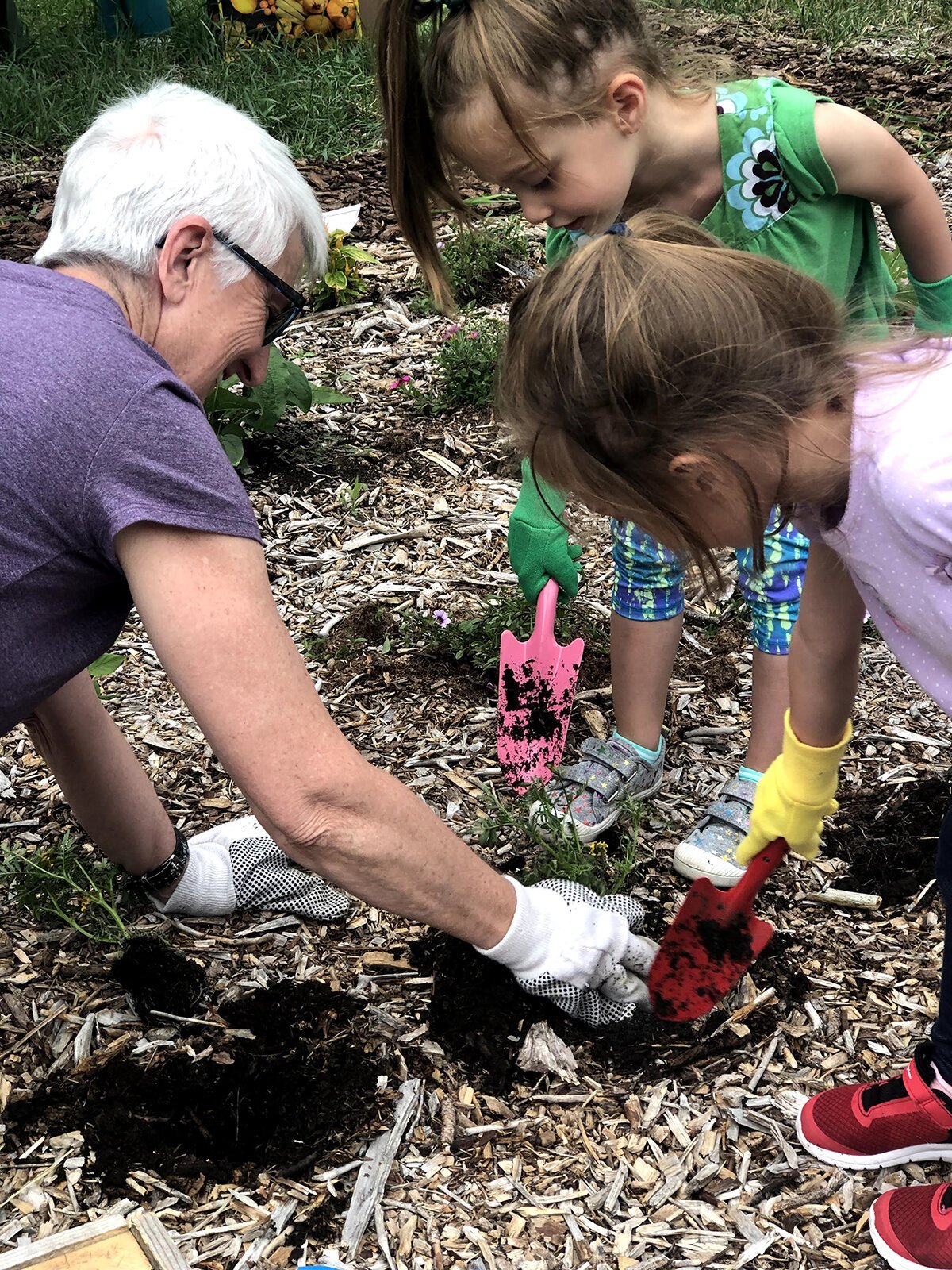 Children in the Child and Family Charities Family Growth Center's community garden.
"I like working with SNAP-Ed programming because it sets people up for success with cultivating a healthy lifestyle. I really enjoy teaching the 'Grow It, Try It, Like It!' curriculum," says Beth Corcoran, FGC preschool teacher and nutrition educator. "The earlier children are introduced to the benefits of eating fruits and vegetables, the more likely they are to eat healthy throughout their lives. It will become a lifestyle lived. It has also been really cool to watch the parents learn about gardening and healthy eating with their children and break through any fears or unknowns that have held them back."
 
Corcoran shows the children how to plant seeds, care for the garden, and harvest the fruits and vegetables they've grown to share at mealtime.
 
"The preschoolers are amazing. They will ask, 'Is this the cucumber that I grew?'" says Corcoran's colleague, Kathy Kelly. "We tell them yes and share pictures of themselves planting the seeds and pulling the cucumbers off the vine as a way to celebrate their efforts. Another benefit of our programming is that some of the parents have said they've been inspired to plant their own plot at the community garden."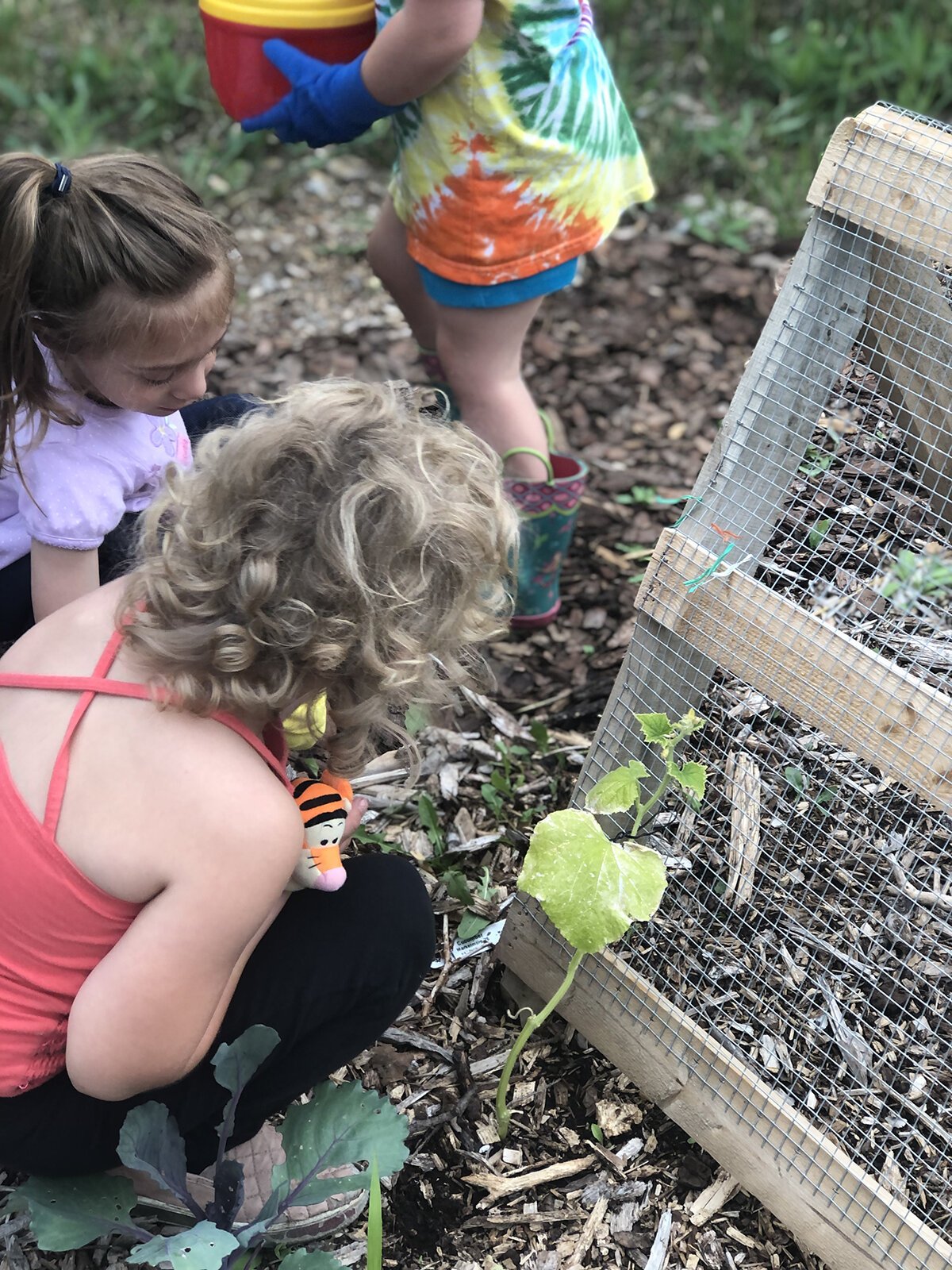 Children in the Child and Family Charities Family Growth Center's community garden.
Kelly has been with CFC for 22 years in a variety of roles. Today, she is the director of CFC's child abuse prevention services. She also serves as the SNAP-Ed program lead and nutrition educator for the Food Smarts curriculum. Food Smarts is taught as part of CFC youth shelter programs. The program covers a variety of topics, such as serving sizes, balanced meals, kitchen safety, and cooking skills.
 
One of their youth shelters is Angel House, a therapeutic mother/baby residential program for pregnant and parenting teen girls. Using Food Smarts, young mothers learn how to plan, prepare, and create healthy meals to ensure they are getting the nutrients they need to have a healthy pregnancy and feed their families well. Young moms also learn about the benefits of being physically active and engage in physical activity demonstrations that provide them with the tools they need so they and their families can lead healthier lives.
 
At the other youth shelters, CFC uses Food Smarts in conjunction with the Food Smarts: Waste Reduction Workbook. Together, the youth learn how to prepare, store, and preserve foods to prevent food waste — and stretch their food budgets. 
 
Many youth coming to the shelters have experienced health impacts due to food insecurity and undernutrition – for example, obesity and type 2 diabetes are common. What they learn about eating healthy during their stay at the shelter guides them to better health and is knowledge they can use everyday.
One way they do this is to take what they've learned through their SNAP-Ed programming and apply it to the meals they make for the shelter household by using recipes found in the Food Smarts cookbooks. Some even take it a step further. For example, one young man found that he enjoyed cooking so much that he began adapting other recipes with the knowledge he gained from Food Smarts to create more healthy, delicious meals for his shelter family. He has since landed a job as a line cook at a local restaurant and aspires to be a chef.
"When he's cooking at the shelter, everyone shows up for the meal," says Kelly. "This program introduced him to cooking at age 19. Now, he has aspirations for what he wants to do in life."
In addition to waking up the tastebuds of everyone at the shelter, he has demonstrated how to take what he's learned, expand on it, and show everyone that healthy foods taste good. As a next step, CFC connected him to ServSafe food safety classes at the local community college to learn about safe food handling procedures and get certified, which will give him skills he needs to succeed in the workplace. 
   
CFC also engages in community outreach that supports local food systems and improves access to affordable, healthy foods using MFF's Farmers Market Food Navigator™ program. Working at farmers markets that accept food assistance dollars, Food Navigators help families with tight food budgets maximize their food dollars while eating a healthy diet. As nutrition educators, Food Navigators also provide healthy recipes, food tastings, and tips about selecting, storing, and preparing fresh, locally grown produce. They also introduce shoppers to the market vendors, which creates a social connection between the shoppers and the farmers that grow their food.  
  
"At the South Lansing Farmers Market, I get to meet a lot of families and help them eat healthier using fresh, locally grown, seasonal produce," explains Angela Bunker, nutrition educator and Farmers Market Food Navigator. "While working at the market, Beth and I thought offering some physical activities would be helpful after hearing from shoppers that it can be hard for them to be physically active on a regular basis. So, we started offering a series of demonstrations at the market using the Rec-Connect™ program because it has so many easy activities that anyone can try."  
 
Designed to inspire and empower people to engage regularly in physical activity, CFC is one of the first MFF partner organizations to incorporate the Rec-Connect™ physical activity demonstrations at a farmers market. The Rec-Connect™ program is designed to motivate people to engage in physical activity every day with their social connections.
Bunker and Corcoran pulled together a team of community members to create a plan for a series of physical activity demonstrations from Rec-Connect that they thought would be fun for shoppers. Two of the demonstrations they selected were easy activities using strength bands and beach balls to get people moving.
"It just made sense to bring in the Rec-Connect™ program as a way for families to have a little active fun at the market," explains Corcoran.  
After the demonstrations, they provide resources to participants to do the activities at home with their friends and families and encourage them to set personal goals to be more active. 
 
"We also make sure to share information about free local resources where people can get outside and get moving, like on our nearby parks and trails. Creating an atmosphere where families feel supported to live healthier lives is important to us, it's a part of our mission," says Bunker.

Children in the Child and Family Charities Family Growth Center's community garden.
Corcoran adds, "Yes, we want to encourage everyone to eat healthy and move more – that's what a healthy lifestyle is all about."
https://www.secondwavemedia.com/features/childandfamilycharities09242021.aspx