It's all Greek to me, or it should be when it comes to Mediterranean diet's health benefits – InForum
MISTRAS, Greece — It's a random Wednesday night in the middle of October. That's nothing to celebrate — unless, of course, you're Greek. Then you just celebrate that it's a random Wednesday night in the middle of October.
Tonight, outside the small town of Mistras in southern Greece, a group of American tourists and Greek natives dine on rich, natural foods while listening to friends play their favorite old folk tunes. When the mood strikes, some might even get up to dance.
Are we witnessing the secret to living a healthy life?
Americans have been looking for the answer to that secret for more than 50 years as we've become less and less healthy with every passing decade. Consider this: In 1950, about 10% of the population was considered obese. Today, that number has grown to about 42%. With that comes a myriad of health problems, including greater incidence of heart disease, stroke and Type 2 diabetes.
Have you ever looked at a photo of people from the 1950s and thought, "Why were these people so slender?" You can't boil it down to one simple thing. Certainly, we're more sedentary these days, and our portion sizes are larger. We're more stressed out and get less sleep.
But people back then were drinking whole milk, eating bacon and slurping down full-fat ice cream milkshakes at the malt shop. Still, they didn't seem to worry much about their fat intake until someone told them they should — and that's when it all started to change.
Registered dietitian Megan Myrdal said back in the 1960s and '70s, when rates of heart disease were rising in the United States, research at the time pointed to fat as the problem.
"So, that is where we really started to see all of this low-fat eating and this emphasis on the low-fat diet as a way to try to curb the heart disease issue," she said. "And as research has evolved over time, we really realized that that was probably one of the most detrimental public health messages that was shared with people. Because what it did is it cut fat from the diet, and it increased sugar, salt and processed carbohydrates. And those are the things that are really damaging to our bodies."
Myrdal is a co-founder of Foods of the North, whose mission is to celebrate, connect and empower our local food community in Fargo-Moorhead and beyond. She's also a co-author of the book "Midwest Mediterranean," which explores the Mediterranean diet and how the diet can be adapted and celebrated in the American heartland.
"It's a very-plant based diet. So, it's really rich in fruits and vegetables, whole grains, nuts and seeds. And really healthy sources of fat, like the extra-virgin olive oil," Myrdal said. The diet is limited in animal-based products.
"You try to get more of your proteins from things like legumes, beans, nuts and seeds," she said.
However, being from America's heartland, home to so many cattle ranchers, it's tricky, Myrdal said.
"You know, I struggle with the red meat thing, because we are a ranching and cattle state, and I personally know a lot of cattle ranchers," she said. "So, to tell people to completely remove red meat from their diet — I would never prescribe that to people in all honesty. I would say, watch out more for the processed grains and sugar than I would for red meat, because I think that that has more significant health outcomes for people."
When it comes to cutting out some grains, which grow in abundance here, Myrdal said the suggestion is not to slash them from our diets, but to rethink how we consume traditional heartland products. At the same time, we can perhaps open up markets to new products.
But change is hard. So what's the incentive to start eating like this?
Myrdal said it's science, citing a well-known study in which individuals were given a weekly supply of olive oil to eat. It was supposed to go on for five years, but after two years they cut off the study because the research was so substantial and so strong.
"The group that was having that intervention (the olive oil) had such a marked decrease in risk of cardiovascular events. If you talk to any major… heart health professional, that is something that they always reference, because it's just one of the most impactful studies around this way of eating," she said.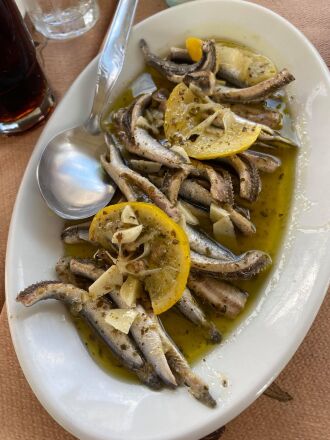 Some who have adopted the Greek way of eating say the best part is that it's not about deprivation. They can eat what they like, but because they're eating more fat, they feel full faster, so overeating is less likely.
Proponents say it's not just about what is on the plate, but also about changing the way people think about dining. That includes sharing meals with others and savoring the flavors as much as the time connecting to others. It's a shift for Americans, especially for many Midwesterners who grew up with that famous work ethic to go, go, go from sunrise to sunset.
"And all the hustle and bustle and all the nonsense that we think is important. We begin to realize, 'You know what? Maybe not so much. Maybe it's OK to have an amazing dinner with friends and let tomorrow take care of itself,'" said Midwest Mediterranean co-author Peter Schultz.
This is not to say the Greeks are perfect. They have a higher rate of smoking than Americans, and as fast food starts to creep into bigger cities, their diets have taken a hit. Even they need to refocus on what works and what doesn't.
Back home in the United States, some physicians are getting in on the action. Dr. David Clardy, a cardiologist at Sanford Medical Center and one of the co-authors of the book, has been a catalyst in getting physicians to encourage patients to use a Mediterranean diet as a preventative method to ward off heart disease. Some even leave the clinic with a book in hand. Could using food in place of or in addition to medicine help reverse the tide?
Going back to Greece gives us a little historical perspective to all of this.
For thousands of years, the fight was to get enough food to survive. Famine and starvation were the challenges, not complications from obesity. It's only been very recently, a sliver of time in the human experience, that the developed world is fighting to manage the abundance of food around us. How can it give life and health and not lead to premature death? It's completely changed how we view food.
"I think that in the process of trying to manage abundance, we have villainized food, and we've made food into an enemy and something that provides a lot of stress and anxiety for people," Myrdal said. "But I really think that what we're talking about with this diet — including bringing people together around a shared connected experience with food — that brings the beauty and love back to food, as well as the health, too."
In tomorrow's final installment of Forum Communications' "Liquid Gold" series, we'll take a closer look at how farmers in the American Midwest and Greece can work together to make local global and global local.
"Midwest Mediterranean" can be purchased online through Amazon or at Zandbroz and Creative Kitchen in Fargo and Ferguson Books in West Fargo.
For more information about Forum Communications' series and read all published installments, visit
Tune into WDAY-TV at noon Saturday, April 9, to watch our full-length documentary, which will also be available on the Liquid Gold page beginning April 11.
window.fbAsyncInit = function() { FB.init({
appId : '660145811828387',
xfbml : true, version : 'v2.9' }); };
(function(d, s, id){ var js, fjs = d.getElementsByTagName(s)[0]; if (d.getElementById(id)) {return;} js = d.createElement(s); js.id = id; js.src = "https://connect.facebook.net/en_US/sdk.js"; fjs.parentNode.insertBefore(js, fjs); }(document, 'script', 'facebook-jssdk'));
https://www.echopress.com/lifestyle/its-all-greek-to-me-or-it-should-be-when-it-comes-to-food