TV Review: Trio of stars kills with comedy in 'Only Murders in the Building' | Movie Reviews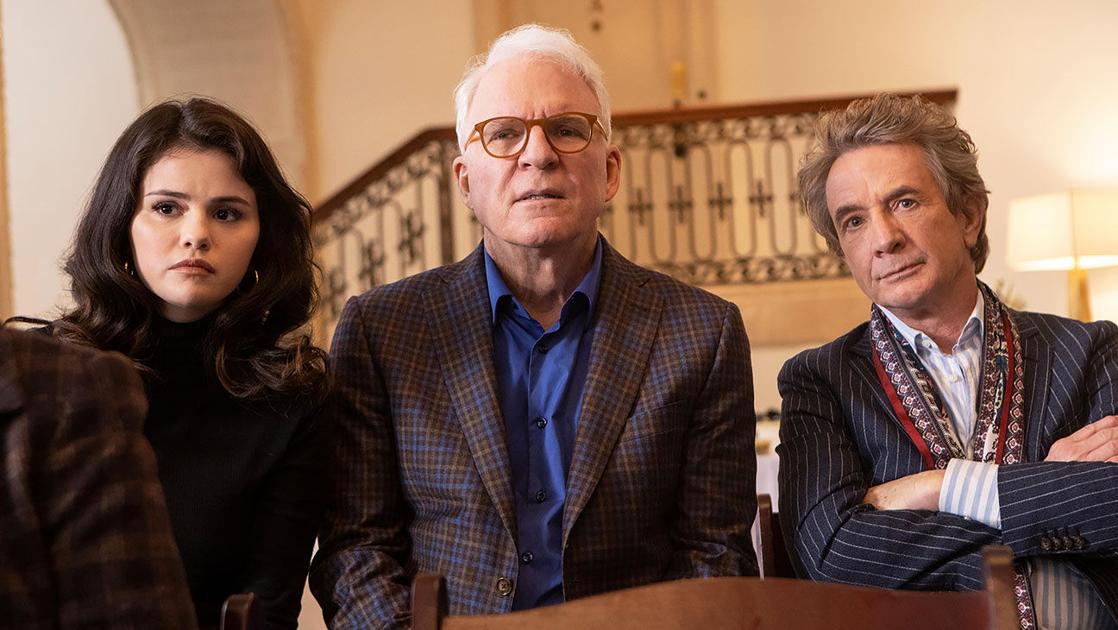 There's something about a murder mystery story that humans love — the allure of the unknown, wanting to put a puzzle together, the intrigue of how a person could actually kill another person is all attractive from a safe distance.
It's no surprise then that Agatha Christie is the best-selling author of all time, Clue is one of the best-selling board games of all time and "Law & Order" and its spin-offs are among the longest-running and most popular TV shows of all time. People, by nature, love a whodunit.
Meanwhile, they say the formula for comedy is tragedy plus time, but it takes no time at all to fall in love with the new murder mystery comedy series "Only Murders in the Building," now on Hulu, created by John Hoffman and Steve Martin, who also stars as one of the series' three leads. Highly polished in quality and hilarious throughout, I wouldn't expect anything less from Martin.
What keeps this show so engaging and entertaining is just how well it balances the true-crime drama aspect with the parody and spoof of the genre, never straying too far into either camp. You get a hilarious comedy that's never too absurd and a thrilling mystery that's never too macabre, all led by a trio of stars who understand this story perfectly.
Washed-up theater director Oliver (played by Martin Short), TV actor Charles (Martin) and 20-something Mabel (Selena Gomez) are temporarily kicked out of their fictional West Side apartment building the Arconia after an apparent fire alarm.
Virtual strangers except for occasional waves in the lobby, Charles, Oliver and Mabel begin to bond over a shared love of true crime podcasts. When a dead body is discovered in the building, the trio rejects the initial determination of suicide.
Launching an amateur investigation — as well as a true-crime podcast of their own — the two show-biz veterans and the Millennial in over her head begin to dig deeper into the building's tenants' pasts to find the killer, all while trying to hide their own secrets from each other.
Both Martin and Short have been friends for decades but have only appeared together in three movies and a two-man comedy special on Netflix. With a 10-episode series, the two have an opportunity to work off each other over a much longer period of time, bringing back some of what you'd expect from their 35-year friendship while also going deeper and farther into the comedic possibilities and emotional connections, but they're the old timers here.
Surprisingly, the real star of this story is Gomez as the scene-stealing Mabel. Because Martin and Short are masters of their craft, you know what their comedy is going to be, but Gomez takes on these two with a powerhouse performance of her own. Playing the straight man as a disinterested Millennial, all of Gomez's deadpan line deliveries add that extra punch to Martin and Short's setups, quietly taking the comedic spotlight for herself.
With "building" right in the show's title, their homes in the Arconia have to be impressive since it's where so much of the action takes place, and thankfully it is. Every apartment as well as the hallways, lobby and community rooms are meticulously designed to feel completely lived in while holding just as many secrets and clues as an I Spy book page. And because almost everyone in the building lives alone, you never know what could be lurking around the corner.
In addition to the phenomenal stars, Short and Martin have brought along some friends and colleagues along to pop up as guests, including Nathan Lane as an old business partner of Short, Tina Fey as the host of the murder podcast the trio loves and Sting, as himself, as one of the building's residents and a suspect.
As the mystery unfolds and the comedy continues to hit when least expected, it's obvious Gomez, Short and Martin have wonderful chemistry and play off of each other like they've been friends for years. And like some of the greatest genre comedies ever made, it's not only a great satire but a genuine product of the genre it's making fun of.
https://www.salamancapress.com/lifestyle/movie_reviews/tv-review-trio-of-stars-kills-with-comedy-in-only-murders-in-the-building/article_dbd66ef8-15bf-11ec-a610-9374d8b7ac7b.html