May 03, 2022
Written by Dave Fidlin | Photos by Craig Schreiner
Rare coins, sneakers and kombucha might seem like an unlikely mix, but all three were among a group of business concepts on full display for this year's Warhawk Business Plan Competition that put UW-Whitewater student entrepreneurs in front of a panel of judges.
In the 16th annual competition, held April 27 at the Innovation Center within the Whitewater University Technology Park, six students presented their businesses before the five-person panel of judges in a timed, six-minute format.
Freshman Chad Tjugum of Sun Prairie received first prize ($1,250 in tuition credit) for SeventyCoin, his online rare coin business. Senior Kara Zamora of Mount Pleasant earned second prize ($1,000 in tuition credit) for her aptly named product, Kara's Kombucha. Freshman Hayden Pauls of Menomonee Falls took third place ($750 in tuition credit) for his online sneaker business, Fly Kicks. All three students are majoring in entrepreneurship.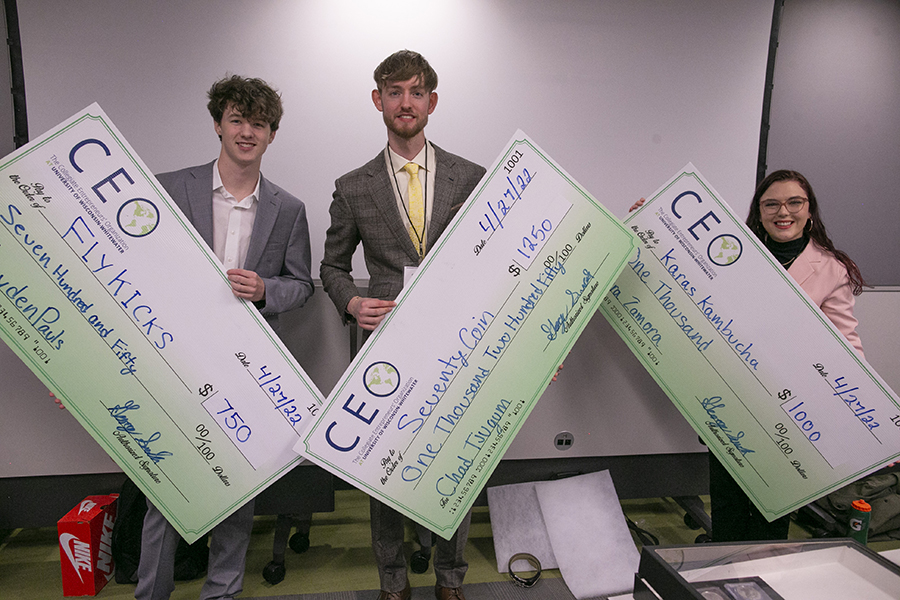 Professor of Management William Dougan is among the University of Wisconsin-Whitewater faculty who play a pivotal role in holding the business plan competition each year. Dougan has been involved with the event since its inception in 2007 and said programs such as this one are a great way to advance what takes place within the classroom.
"The university is playing a role in society as an engine for the development for new ideas," Dougan said. "Through this method, you can enable young people to really accelerate their career path. It showcases their efforts and enables them to be able to create social networks. It's an opportunity for them to get out in front of people. It's good for the community, it's good for the university and it's good for the young people."
While Dougan has been an integral part of the competition from day one, he said the work of other UW-Whitewater faculty, advisors, student groups and community collaborators has been the bedrock of its success. The campus chapter of the Collegiate Entrepreneurs' Organization, or CEO, has also been foundational from the get-go.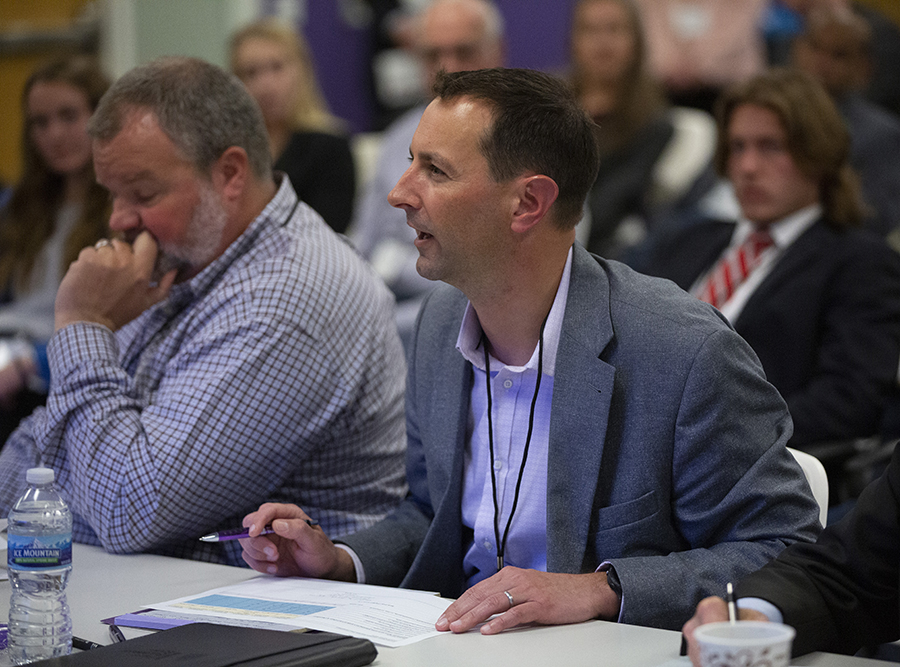 George Soucek, who is president of the UW-Whitewater CEO's executive board, said the event is a natural fit for the organization's overall mission of fostering entrepreneurship.
"It's competitions like these where students can share their ideas and build connections that can last a lifetime," Soucek said. "Here at Whitewater, we've had some very successful startups and great businesses come out of this university."
In his pitch to the judges at the April 27 competition, Tjugum touched on the evolution of SeventyCoin, which has been in business since 2016 and, to date, has sold more than 2,600 rare coins through an eBay store. Several years ago, Tjugum branched off into selling sneakers, but had indicated he plans to get out of that specific segment within the next year.
While there are a bounty of other rare coin dealers in physical storefronts and via online marketplaces, Tjugum said he is looking to modernize an aging business — a proposal that won over the judges.
"The rare coin industry is something that hasn't been innovated on much," said Tjugum, who notched $429,000 in revenues last year and has $609,000 revenue forecast this year. "I'm really looking to innovate on it."
Zamora said her line of kombucha drinks go beyond the product itself. Her business plan intermingles the concepts of digestive and mental health and includes other future goals, including a donation of her business' proceeds to the organization Mental Health America.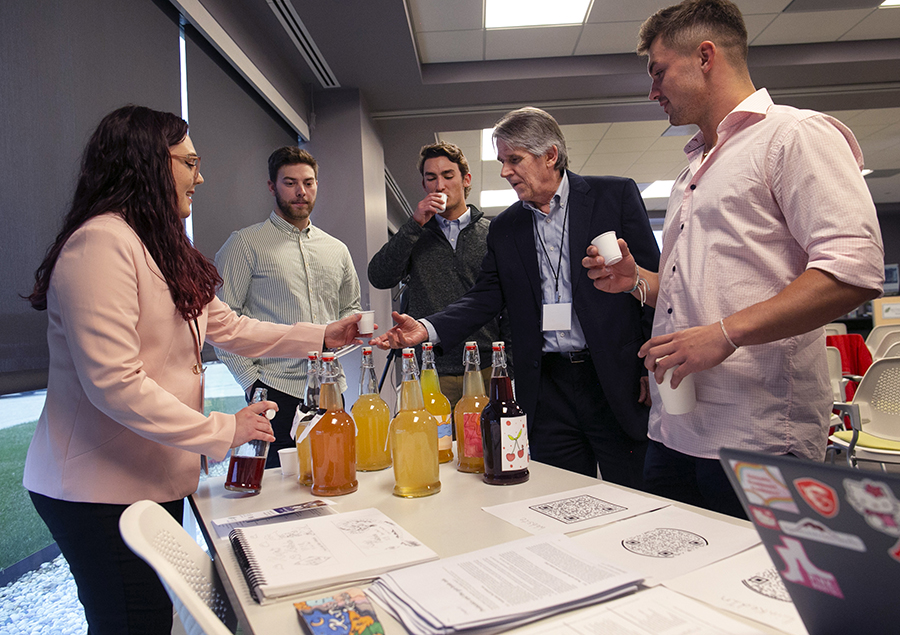 "Digestive health and mental health are very closely linked together," said Zamora, who began using kombucha to remedy her own personal challenges. "When you have a healthy digestive system, you have a healthier state of mental health."
To date, Zamora has been selling 16-ounce bottles of Kara's Kombucha to family and friends and aspires to begin selling it through a business-to-consumer model as she procures the rights to work in a commercial kitchen. She also has secured a statement of interest to sell her fermented tea-like product in a local brewery, plans to operate a pop-up shop in Chicago and wants to work with local artists to design product labels.
Pauls established Fly Kicks in 2020 and notched $350,000 in sales last year. This year, he said he anticipates nearly doubling his revenue — to the tune of $650,000 — as he launched his own website, independent of the previous method of selling solely through Instagram.
While there are a plethora of online sneaker sellers, Pauls in his pitch outlined why he believes Fly Kicks stands out from the pack.
"We engage with our customers. Our prices are lower, if not the same," said Pauls, who is co-founder of the business. "We like to price match, or lower it, depending on the demand of the shoe."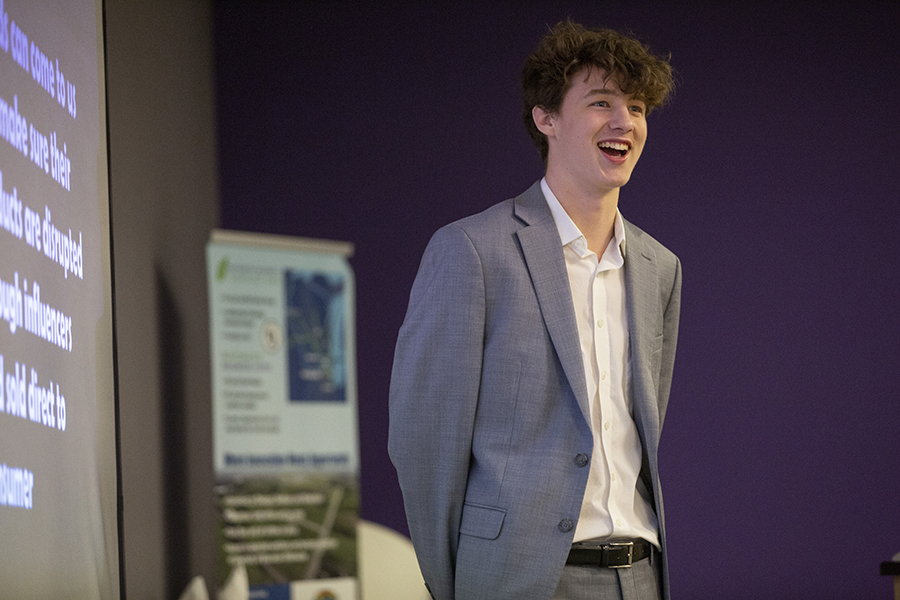 While many of the student entrepreneurs have been impressive over the years, Dougan said this year's presenters were especially notable because of the strong success they have already attained within their businesses.
"This particular competition was about young people talking about what they have done," Dougan said. "Some of these people were successful when they walked through the door. (The competition) enables them to scale their business, grow their business and provides a network and resources to increase their success."
Other student participants in this year's competition included Josh Baldwin, owner and founder of JRB Kicks; Jackson Behling, CEO of Hijack Fitness; and Alex White, CEO of New Age Golf Course.
This year's panel of judges included Technical Sergeant David Brown of the Wisconsin National Guard's Office of Innovation; Jim Caldwell, CEO of First Citizens State Bank; Shakkiah Curtis, director of gener8tor's 1915 Studio; Wade Hanna, vice president of First Business Bank; and Brian Jensen, director of global product at Raymarine.
This year's competition sponsors included the Deborah Malewicki Endowment, First Citizens Bank, gener8tor, Lindy Enterprises and the Union House, Whitewater Innovation Center, Tony and Erica Prater and Joseph A. Schlidt.
https://www.uww.edu/news/archive/2022-05-business-competition